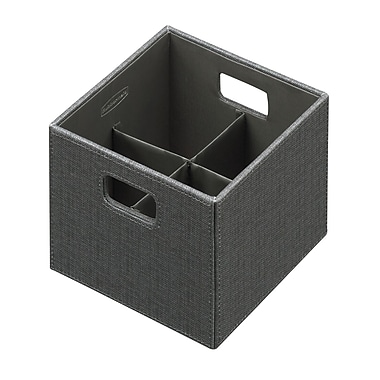 Hi friends! I hope you are having a good day. Did lots of running around today - I went grocery shopping at a few places (isn't it funny how you can like the produce more at one place than another?). And since I wasn't totally worn out I stopped into Joann. I have a color blending challenge coming up and I thought I'd buy a few Gelatos and experiment with them. I also got a very cool new Rubbermaid Bento Box to keep all my Paper Smooches dies in. I keep them in the sleeves they come in with a printed label on the front and can just flip through them like recipe box index cards. The little dividers in the bento box just fold back against the inside of the box if you don't want to use them. The box is nice and sturdy too so I hope it lasts a very long time and it will hold LOADS of dies!
I'm playing along with the Paper Smooches Sparks Challenge. It's a great time to play because you can link up your project at the SPARKS challenge as well as the Paper Smooches blog. They are having a contest for their birthday, and looking for a guest DT member too. This week is an inspiration photo. A little tricky too I would say. Take a look at this. I immediately picked up on the heart, gold and pink, but all those triangles. What to do? I grabbed a triangle embossing folder of course. I tried to emboss the raised triangles, but they didn't ink up well and wound up looking like a hot mess so I left the embossing clean and added a sprinkle of gold sequins. I wasn't so keen on the blue/grey and wood grain for my Valentine, but I did sneak a tiny bit in on the "14" numbers.
Thanks for stopping by! I hope you have a great Valentine's weekend - no big plans for me. I'm sure hoping I can talk my honey into some Thai food though. I'm totally addicted to curry and pad thai!
Supplies Used: Finished Size 4.25 x 5.5"
Stamps: Paper Smooches Love Struck
Dies: Paper Smooches Flowers, Numbers, Zig Zag Tag, Cheery Lynn French Pastry
Embossing Folder Lifestyle Crafts Linear
Twinery Twine Pink Sorbet
Ruler Ribbon: The Ribbon Reel
Paper: PTI Hibiscus Burst, Raspberry Fizz, New Leaf, Simply Chartreuse, Ocean Tide White, SU Pretty In Pink
Button